About Steven D. Rhoads
Republican, Conservative Republican, Conservative
District 5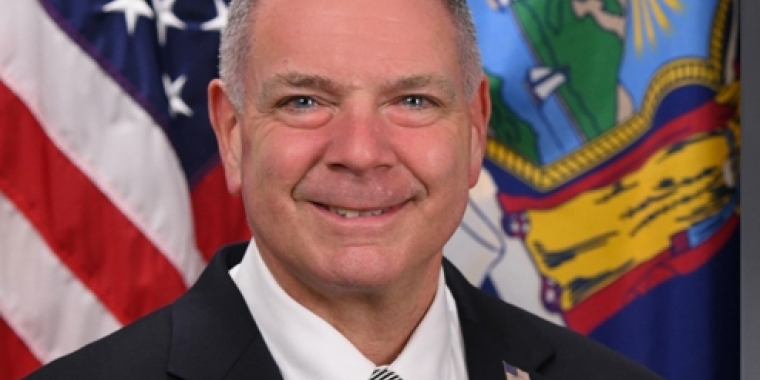 A firefighter, County Legislator and public safety advocate, Steve Rhoads was elected to the State Senate in 2022.
A volunteer firefighter for 30 years and attorney for first responders, Steve's priority as Senator will be fighting to repeal dangerous bail laws that free killers, gang members, drug dealers, and other violent felons from jail. Steve will prioritize public safety, standing shoulder to shoulder with police officers and ensure they have the resources necessary to fight crime. He will work tirelessly to ease the crushing property tax burden by expanding the STAR program, protecting the property tax cap, and enhancing property tax rebate checks – all while limiting spending and cutting waste in the State Budget. Because there's nothing more important than the future of our children, Steve Rhoads will be a champion for parent rights in education and increase funding for local schools.
Elected to the Nassau County Legislature in 2015, Steve Rhoads has a record of delivering real results. Steve Rhoads has never voted for a tax increase. Instead, Steve proposed and passed over $100 million in tax and fee cuts for Nassau residents. What's more, Steve Rhoads blocked efforts to defund police and invested more in the Nassau County Police Department. Nassau County now has even more officers on the streets protecting our loved ones, as well as our homes and neighborhoods.
Steve Rhoads believes that standing up for Long Island families means standing for the issues most important to us. As a Legislator, Steve created the Office of the Crime Victim Advocate to protect the most vulnerable people impacted by pro-criminal policies coming from Albany. To protect children and families, Steve also expanded the Rave Panic Alarm System to better equip schools and houses of worship during times of emergency. Under his leadership, Nassau was first county in the nation to address the wave of anti-Semitism, implementing legislation to combat the BDS movement. To protect your tax dollars, Steve overhauled Nassau County's contracting process and created an Independent Inspector General to increase transparency and restore trust in government. Steve has secured millions of dollars in state and federal funding for our neighborhoods, local schools and major road repaving projects. Pursuing non-county funds has improved our local quality of life while minimizing the tax impact.
As a Wantagh Volunteer Firefighter, Steve Rhoads and his unit were honored for their heroism during Superstorm Sandy and its aftermath. A successful attorney in private practice and former Deputy Bureau Chief in the Office of the Nassau County Attorney, Steve resides in Bellmore with his wife of 25 years. Steve is a graduate of Hofstra University Law School, SUNY Albany, and Wantagh Public Schools. He is the Director of the Youth Ministry Program at St. Pius X Parish in Plainview and is a member of the Knights of Columbus, Kiwanis, the Wantagh-Seaford Homeowners' Association, Bellmore Lions, the Nassau County Bar Association, and the Nassau County Police Emerald Society.